On December 10, 2021, Grammy-winning Nigerian superstar, Wizkid had a conversation with Apple Music. This was meant to commemorate his Apple Music Award for Artist of the Year (Africa).
He reflects on the last 12 months, discusses the huge success of his album, Made In Lagos, explains how his life has changed since his 2011 debut and reveals his plans for 2022. As part of the show, he spoke about the night he made 'Essence.'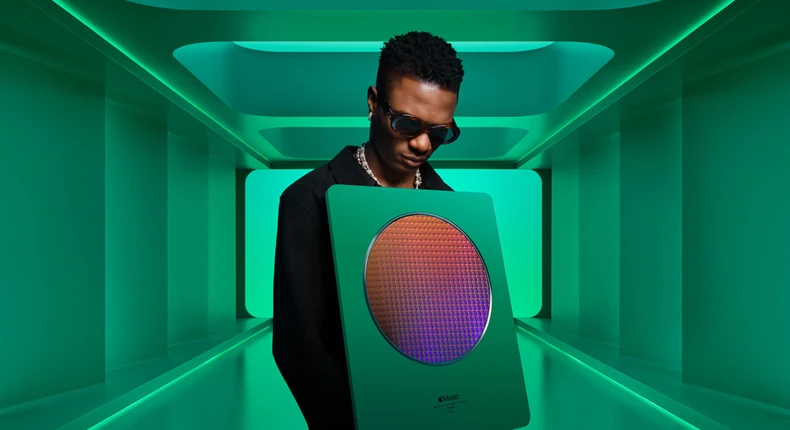 He says, "Crazy thing is, the night we made "Essence," I made "Gyrate" the same night. So sometimes in a night I made two bangers, three bangers. I wake up and get to it. I treat this sh** like school. I wake up in the morning. I'm like, yeah, I did well yesterday. Let's go. What are we doing today? You know what I mean?
"Hell yeah, man. I knew that ["Essence"] was a smash. The night we made it, I actually tweeted something. My fans actually reminded me of it after we put out the album.
"Because I tweeted "Tems and I made magic." That was what I tweeted. I knew it was magic, man. I've been making this sh** for 10 years. Come on. You think I'm not going to know if we make it?
"It feels good. It feels really, really great. When you have a record like that, it feels good, man. But the most important thing is when we made it, we wasn't thinking about no commercial success or anything like that. We was just trying to make good music. So I think maybe that's why people really like that record like that, because it just comes from the soul. Just natural, organic sh**."
He also thanked Apple Music for his award.
NB: certain words used in this article were misspelled to circumvent online censorship
Related posts
Subscribe
* You will receive the latest news and updates on your favorite celebrities!
Moonchild Sanelly Signs With Transgressive Records And Releases New Single
Facebook0Tweet0Pin0LinkedIn0Email0 Talented musician Moonchild Sanelly, has debuted her new single titled Bashiri. The banger ribs preachers, who use the church for capital gain. Moonchild whose career…
Nigeria's Fireboy DML releases Apple Music Session
Facebook0Tweet0Pin0LinkedIn0Email0 Nigerian musician Fireboy DML has released four newly recorded tracks as part of the Apple Music Home Session series.The Apple Music Home Session project involves…